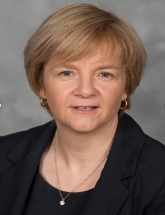 Contact Information
United Kingdom
Councillor Jenny Laing
Leader, Aberdeen City Council, United Kingdom
Jenny Laing is Leader of Aberdeen City Council.
She was elected to Aberdeen City Council in 2007 and became the Council Leader in May 2014, Co-Leader in 2017 and Council Leader in 2021.  Jenny is the Chair of Aberdeen City Region Deal Joint Committee, Chair of Community Planning Aberdeen and Chair of Net Zero Vision – City Leadership Board.  Jenny is also a member of Visit Aberdeenshire Board and Aberdeen Inspired Board and was named the Scottish Local Politician of the Year 2017.
Jenny was born in Aberdeen, is married and has a grown-up son.  She graduated from Aberdeen University with an honour's degree in Economic History.
Jenny spent 25 years as Customs Officer with HM Customs and Excise; at Aberdeen Airport and Dundee Port; and throughout the North East as a VAT Inspector and Compliance Officer; latterly Jenny was a Business Education Support Officer throughout Scotland with HM Revenue and Customs.
Presentations and TV Report
EXPERT SPEAKER AT PAST EVENT