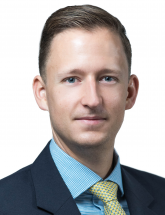 Contact Information
17 Duke of York St, St. James's
SW1Y 6LB - London
United Kingdom
+44 (0)20 7024 8933
Christopher Mertlitz
Executive Director , W. P. Carey Inc., United Kingdom
Christopher Mertlitz joined W. P. Carey's European Investments Team in 2011 and currently serves as Executive Director. Prior to joining the firm, Chris worked in various industry sectors including engineering, energy and information technology in Austria and Germany.
Since joining W. P. Carey, he has been directly involved in the structuring and closing of more than €1.5 billion in sale-leaseback, net lease and build-to-suit investments across Europe, especially in Germany, Austria, the Netherlands and the U.K. He has extensive experience acquiring industrial and specialised retail assets, and particular expertise in financial modelling and complex credit underwriting.
Chris graduated summa cum laude from Oxford University with an MEng in Engineering, Economics and Management where he was also a scholar. He is fluent in German.
Presentations and TV Report