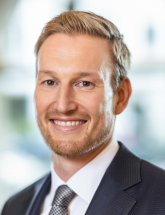 Contact Information
Zimmerstraße 16
10969 - Berlin
Germany
Sven Henkes
CEO, ZIEGERT – Bank- und Immobilienconsulting GmbH, Germany
As CEO, Sven Henkes is in charge of managing and further driving the business of ZIEGERT- Bank- und Immobilienconsulting in Berlin. In addition to this he also heads ZIEGERT Knight Frank Frankfurt as Managing Partner together with Elvin Durakovic in Frankfurt/Main. Henkes is also responsible for all value-added services from property development consulting, marketing and sales to the furnishing service of Studio Z.
When he joined the ZIEGERT management team in 2014, Henkes brought with him ten years of management experience in marketing positions at Coca-Cola and Carlsberg in Germany and Switzerland. From Berlin, he oversaw Coca-Cola's global Christmas campaign, among others.
Henkes studied Business Administration at Trier University and the Aston Business School in Birmingham and holds an MBA from the European School of Management & Technology (ESMT) Berlin.