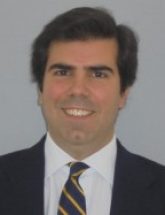 Contact Information
20 Bank Street, Canary Wharf, Floor 08
E14 4AD - London
United Kingdom
+44 20 7677-0272
Juan Gonzalez Pedrol
Executive Director, Investment Banking Division - Real Estate, Morgan Stanley, United Kingdom
Juan is an Executive Director in the Real Estate industry group within Morgan Stanley's Investment Banking Division. He joined Morgan Stanley Real Estate practice in 2007 where he has been doing Pan-European coverage with special focus in the Spanish market. He previously worked in Deloitte.
Juan has executed numerous corporate transactions in the Spanish real estate market including M&A, restructuring, equity and debt.
Juan earned a MBA from IESE Business School and holds an MA in Business from Icade.
Presentations and TV Report