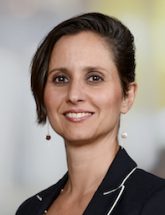 Contact Information
- London
UK
+40 (0) 728 205 626
Eri Mitsostergiou
Director of European Research, Savills, UK
Eri joined Savills as a Senior Analyst in the Commercial Research department in November 1999. She is now a Director and coordinates Savills European research and provides advice to Savills clients with their European projects.
The International Council of Shopping Centers (ICSC) this year presented Eri with a Researcher Award, in recognition of her contribution to the industry. She has been an elected member of the exclusive European Research Group (ERG) of ICSC since 2012 and a member of the Steering Committee since 2014. The ERG group meets regularly, discusses trends and issues within the shopping centre industry, and commissions the European ICSC special research studies such as the 'New Leasing models in an Omni Channel world'.
Eri is a qualified Architect and has completed the Investment Property Forum Diploma at the City Business School. She speaks five languages and has been based in London, Athens and Amsterdam before relocating to Bucharest.
EXPERT SPEAKER AT PAST EVENT