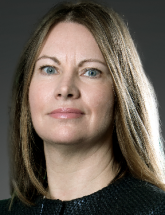 Contact Information
The Leadenhall Building 122 Leadenhall Street,
EC3V 4AB - London
United Kingdom
Anne Copeland
Head of Specialist Funds, Real Assets Equity , Aegon Asset Management, United Kingdom
Around twenty years ago I thought 'ok … just what have I done' when accepting a new role and being told we won't tell you what sector it is until you accept. On arriving I was given a tatty lever arch folder labelled 'NOIR'.
If you are looking for a candid expose on the trials and tribulations of long-dated operational business assets then look no further. If you want surprises then don't bother…I promise my clients not to surprise them.
Those trusting investors have allowed me to create new solutions in healthcare for the benefit of the NHS, patients and investors…
…oh and NOIR, well that was Not Office, Industrial or Retail; the best decision I never made.
…oh and The Kames Healthcare Fund is now the best performing fund in the MSCi/AREF Index over 12 months; second over 3 & 5 years.
EXPERT SPEAKER AT PAST EVENT