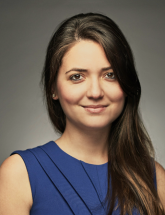 Contact Information
15 Finsbury Circus House
EC2M 7EB - London
United Kingdom
+44 (0)20 3595 3333
Adina David
Director, Urban Living , Greystar, United Kingdom
Adina is Director of Urban Living at Greystar, tasked with consolidating Greystar's global strategy around the development and acquisition of urban living assets which integrate efficient unit design, expanded shared areas, resident programming, and communal workspace to deliver cost-effective and connected communities.
Adina was most recently Vice President of Investments at The Collective until 2019. She was previously with Greystar's UK investments team focused on BTR in the UK. Prior to joining Greystar in 2016, Adina worked in acquisitions and asset management for Dermot, a residential company in New York. She started her career in CRE with Knight Frank in Bucharest, Romania in 2010.
Adina holds an MSc in Real Estate from NYU and a BA from Emory University. She is an active member of CREW and ULI and founder of Ladies in Real Estate. She has been named a RESI Trailblazer (PropertyWeek, 2018), a woman shaping the future of RE in the UK (Bisnow, 2019) and a Rising Star by PropertyEU and Estates Gazette (2020). Adina spends most of her spare time cycling, including with her newly founded club, Doyenne RCC.
EXPERT SPEAKER AT PAST EVENT